Monday 6th June
Tonight was a double celebration, the Queen's Platinum Jubilee and Ponthir W.I's 62nd birthday. (We were unable to celebrate our 60th because of covid. We sang Jerusalem, God Save the Queen and Mae Hen Whlad fy nhadau, accompanied by Jan on the piano. We had a beautiful cake made by Diane, and bubbly to drink.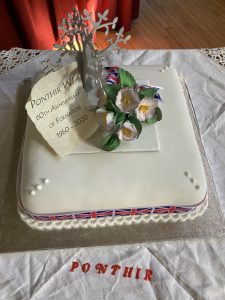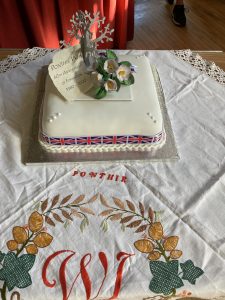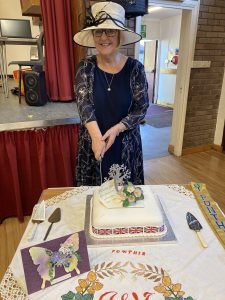 We raised a glass to Marjorie Houghton our only original W.I. member, who joined Ponthir W.I. when it started 62 years ago.
We were entertained by 'Ponthir Recorder Harmonies', who played a selection of songs from the musicals.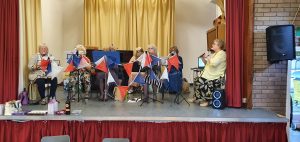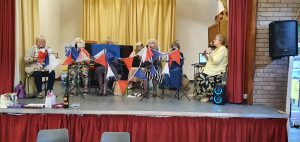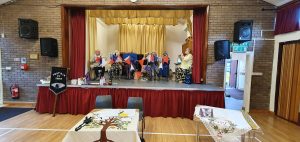 We had a musical quiz, won by Pauline.
As you can see from the pictures, we dressed to impress.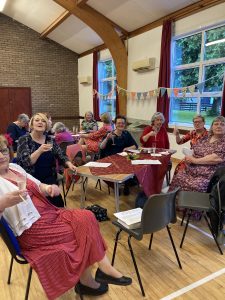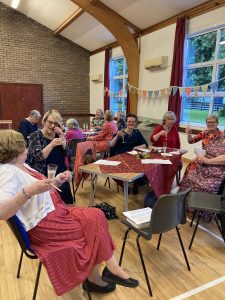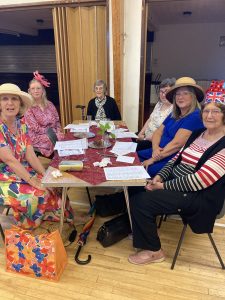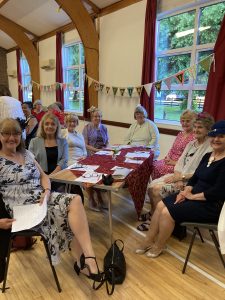 Monday 2nd May
Our AGM and fish and chip supper
We started with our business meeting. Vicky showed everyone the banner which has recently been made by Carol Jones and Pauline Hindle. Well done ladies, you have made a fantastic job, the frame was made by Liz Cooke's husband.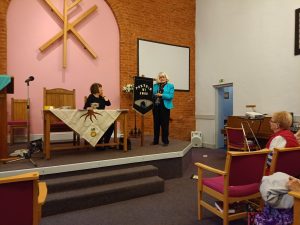 PlNext we had our AGM. Vicky was presented with A Jam and Jerusalem rose to thank her for her hard work as President for the last four years. Sue was elected as our new President. Well done Sue.
We then had our delicious fish and chip supper.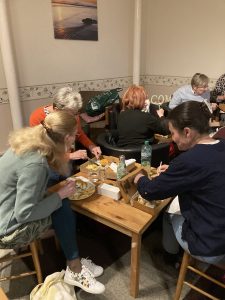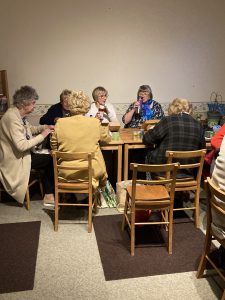 As you can see from the photographs, we enjoyed our food so much, we were too busy eating to smile for the camera!
Monday 4th April
We had fun this evening playing New Age Curling. It was a lot harder than we expected
The competition was 'Something to do with Easter'.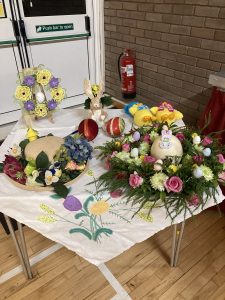 Monday 7th March
Tonight we were entertained by 'Ponthir Recorder Harmonies,' who played a selection of Welsh songs, as a belated celebration of St David's Day. We enjoyed Welsh cakes with our tea and coffee.
We finished the evening by playing handbag bingo, which was won by Sharon and Jean. It's amazing what we can find in our handbags!
Monday 7th February
Our speaker tonight was Marilyn Priday, who was ably assisted by Rakhel and Iven Smith. They told us about 'The Alice Foundation'. In memory of her mother Alice, this charitable organisation was set up to support a Kamoanna, village in Pakistan , who were in desperate need for a building to serve as a place of education for underprivileged Christian and Muslim children and also as a place of worship for Christian families of the village. It would be a multi faith community centre. Rakhel and Ivan are responsible for fundraising events to raise money for the building. Their next challenge is to raise money to support the running of the school.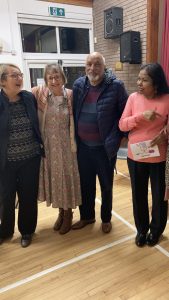 Tuesday 4th January
This was Resolutions night. We held the meeting via Zoom because of the growing number of corona cases. We held an interesting discussion about each of the Resolutions, which helped us decide which way to vote.